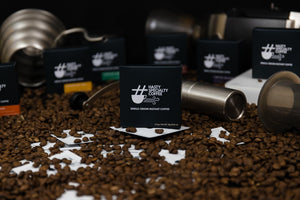 Great coffee should be easy and accessible
Don't settle for just convenience or quality. You deserve both. Anytime, anywhere.
Specialty Coffee in an "instant"
After 5 years of experience in the world of specialty coffee, we understand how hard it can be to brew consistently good coffee, especially when you're on the go.
With our revolutionary process we work with these great roasters to bring you incredible instant specialty coffee that you can make and take anywhere.
Just add water!
This instant coffee tastes better than 90% of the batch brew you can get in cafes! So tasty! You can tell that the coffee has been dialed in very well and a lot of care is put into its extraction. The coffees and roasters that these guys are choosing to work with are amazing! 11/10 would recommend.
Daniel Walsh
Coffee Roaster - Calgary, AB
Amazing taste, unreal quality for instant coffee. it's the best you'll ever have. And so convenient. The best part is the caffeine content. You don't even need more than one cup in a day with this stuff, the energy actually lasts and there's no crash.
Jamin Elvers
This coffee has definitely changed my mind about instant coffee. I expected it to be convenient, but I was pleasantly surprised at how great it tasted too! You seriously need this for your next camping trip or trip to the mountains!
Valerie Richer
coffee tailored to your taste
Discover Your Coffee Series
Do you like your coffee bright and fruity or comfortable and full of cream? Check out our series below to find what coffee suits your taste.
Choose your portion size
We have single serve options for long term freshness and bulk packs for every day drinkers.
Just Add Water
It's that easy! Don't settle for bad coffee. Treat yourself to both quality and convenience in every cup.
Reimagine Instant Coffee
At Hasty Coffee, we know that most current ready-to-drink coffee options are less than great. We also know that learning to make specialty coffee on your own is a huge investment of time, money, and countertop real-estate. With the help of some of Canada's finest coffee roasters, we've done the hard work for you so you can enjoy incredible coffee hassle free.
Through our unique process, we brew single-origin coffees carefully to extract a balanced flavour. Then we crystallize each coffee into a powder to maintain these unique flavours and aromatics.
All you need to do is add 240-300ml water at your preferred temperature and strength. You can even drink it over ice with a splash of hot water to mix the coffee. No burr grinder, scale or fancy kettle required!
Canadian Instant Specialty Coffee!